Vinovest allows you to build an automatically managed portfolio of wine or whiskey or to take a do-it-yourself approach investing in wine bottles with a trading account.
Wine's Potential Appreciation
8-9% average annual growth (Liv-ex 1000 index)
Minimum Investment
$75-$100 for Trading accounts
$1000 for Managed accounts
Investor Requirements
No accreditation requirement
Liquidity
Okay – secondary market available for wine, but inconsistent liquidity
No secondary market is currently available for whiskey casks
Other Highlights
Fine wine and whiskey tend to appreciate in value as they age
A high-level overview of some important characteristics of Vinovest. Please keep in mind that some aspects are related to the characteristics of the type of assets available on the platform.
If you'd like to learn more, we have a comprehensive overview down below.
What Is Vinovest?
Simply put, Vinovest is an investment platform that enables a completely passive, online investing experience in both wine and whiskey. They offer an automated, managed investment account for Wine and Whiskey, as well as a self-directed "Trading" account for wine.
Unlike many alternative investment platforms that offer fractional investments, you always own the whole asset. That may be a cask of whiskey or a single bottle of wine, but you actually own them.
Things work pretty differently between Managed and Trading accounts, as well as between the wine and whiskey offerings, so let's jump into the details.
How Does Vinovest Work (Managed)?
Managed accounts are designed for people that want a passive investing experience.
Getting Started
First, you'll need to create an account. During this process, you'll be asked a few important questions.
Time horizons replaced the previous risk levels questions and significantly influences your portfolio composition. Here's a quick breakdown:
Short-Term portfolios will seek to acquire "strategic" assets with a target holding period of 5-7 years
Medium-Term portfolios will seek a more balanced approach with a target holding period of 7-10 years. Assets categorized for short-term portfolios may also be considered.
Long-Term Portfolios may consider short-term or long-term assets, but will generally look to maximize diversification with a target holding period of 10 years or more.
The time horizon can be changed after creating your account – if you have a balance of at least $10,000. If you have less, this option cannot be modified.
After creating your account you'll need to deposit at least $1000 to get started. Once your initial deposit is received, Vinovest will use algorithms to select and purchase wine for your portfolio.
Vinovest takes care of all the logistics – including storage and insurance of the assets. This of course comes with its own costs, which we'll discuss in more detail later on when we cover account tiers and fees.
To some extent, that's it. You'll just want to make sure you consistently have cash in your account to cover the monthly fees.
The algorithm will continue to monitor your portfolio, cash levels, and the market. When you have a larger amount of surplus cash (think $500+), then new bottles or cases of wine may be added to your portfolio.
It may take some time for new assets to be purchased (2-3 weeks) after adding cash. The specific assets that are purchased are driven by the algorithm based on your current portfolio, the market, any tuning from their master sommeliers, and the questions you had answered when registering your account.
Differences With Whiskey

Investments in whiskey fit within two categories, with their differences:
American whiskey – shorter-term assets with a 2-5 year holding period. Casks have a $1750 minimum investment.
Scotch whisky – assets with a wide range of potential holding periods. Casks have a $15K minimum investment.
From our experience, it is more common for there to be special offerings available for whiskey. These offer the opportunity to acquire different assets at potentially different investment minimums.
That makes the investment experience a bit different. You'll mostly want to ensure that you deposit enough to meet the minimum to purchase a cask. Otherwise the money is likely to sit idle, other than supporting the monthly management fee.
An additional and important difference in the whiskey offerings is that they can be supported with repurchase contracts from the distilleries. Here's an example we received from earlier this year:
Fees And Account Levels
Vinovest's fees – and some features – are based on the size of your account. As your account grows past certain milestones, it will change tiers.
Here's a high-level breakdown of what these look like:

The fees for both wine and whiskey are the same. Your Managed account level is also based on the total size of your combined wine and whiskey holdings.
As your account level increases, the features you have access to also increase. These include things like access to premium wine, being able to have a portfolio manager review your account twice per year, and access to wine futures.
Here's a few things to know about the annual fees:
The fee is collected on a monthly basis from your wine and/or whiskey accounts' cash balance.
For wine holdings, the amount charged is based on your account value. This can fluctuate significantly over time, based on the third-party data they obtain for the valuations.
Cash balances for wine and whiskey are separate, so you'll need to keep both accounts stocked with cash to cover fees.
Additional Fees
Every asset has an ideal sales window. Selling outside of this will result in a 1.5% fee.
What Does It Look Like?
Because so much of the Managed experience is automated, the user experience is also relatively simple. There are basically three sections – Overview, Portfolio, and Activity.
Overview
This is where you can see important high-level information about your account. It's broken down into a few different sections ranging from the account snapshot, rewards, estimated returns, and diversification.
Snapshot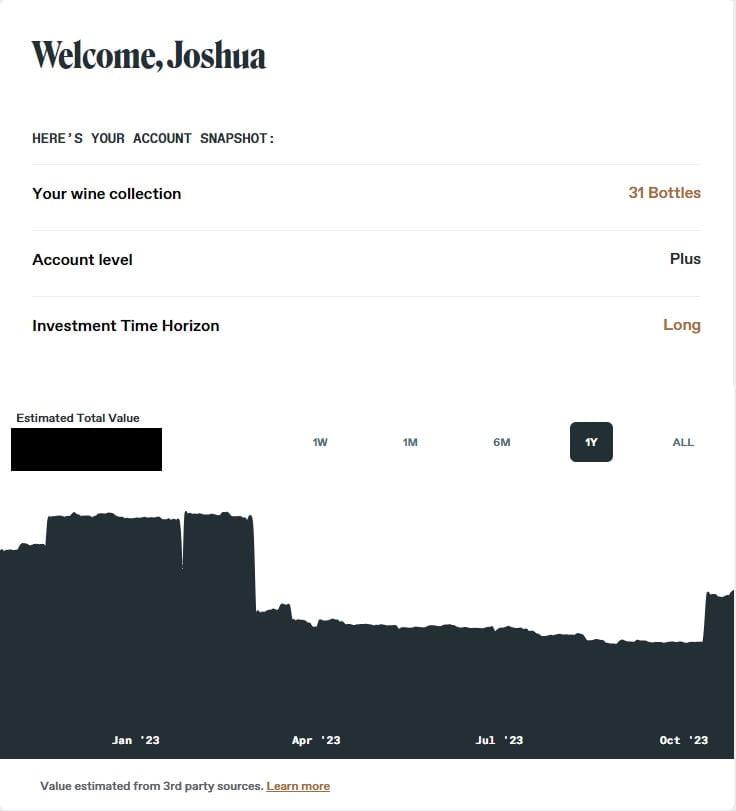 This shows the total number of bottles in the collection, the account tier, time horizon, and a graph of the account value over time.
Estimated Returns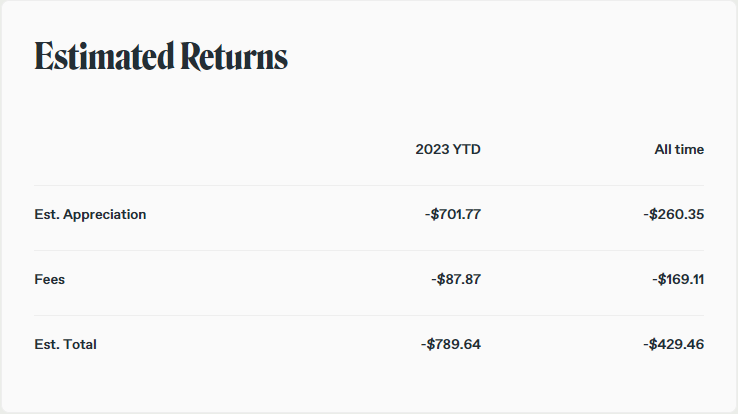 Here you can see a table of the year-to-date and all time financial performance of the Managed account. This breakdown includes the estimated change in value of the individual holdings, the impact from fees, and the final total (estimated) gain or loss.
Diversification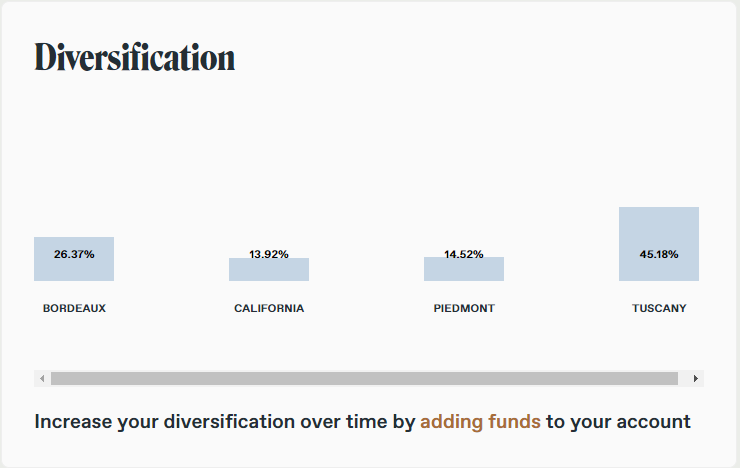 Here you can see a bar graph and percentages for how the wine portfolio has been diversified across different fine wine investment regions.
Portfolio
The portfolio page provides a straightforward account summary and photos of the various investment-grade wine bottles in the portfolio.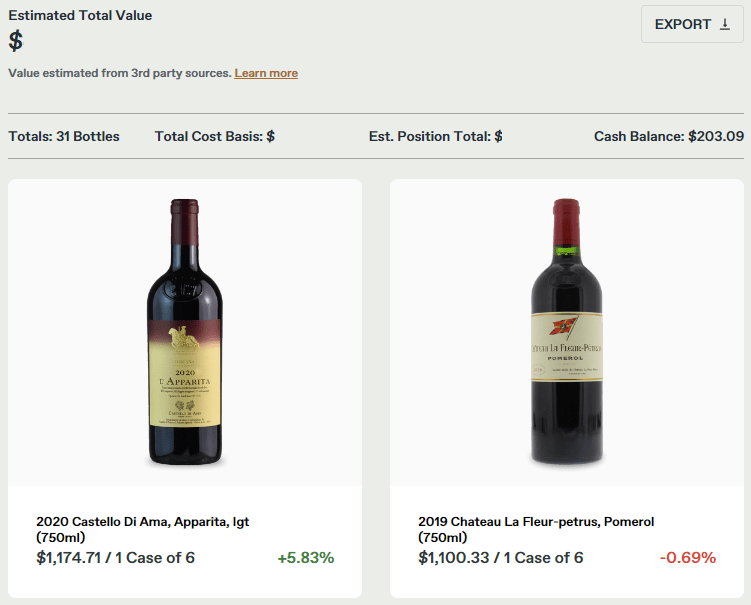 Activity
The activity page simply shows a table of transactions – buys, sells, deposits, withdrawals, and fees.
How Does Vinovest Work (Trading)?
The investment experience for Trading accounts is very different. This is a self-directed account which requires you to actively purchase and manage the fine wine in your investment account.
All the activity happens in the Marketplace. There are basically two types of trades occurring:
A primary market sale – these are new collections with bottles being purchased from Vinovest itself.
Secondary market sales – these are bottles from previously released collections that are transacted between users on the platform.
Secondary market assets are available to buy and sell any time. However, new collections are only released periodically. The Vinovest team will announce upcoming collections ahead of time through email. There will also be a PDF for each collection that explains the history, investment thesis, and numbers associated with the items in it.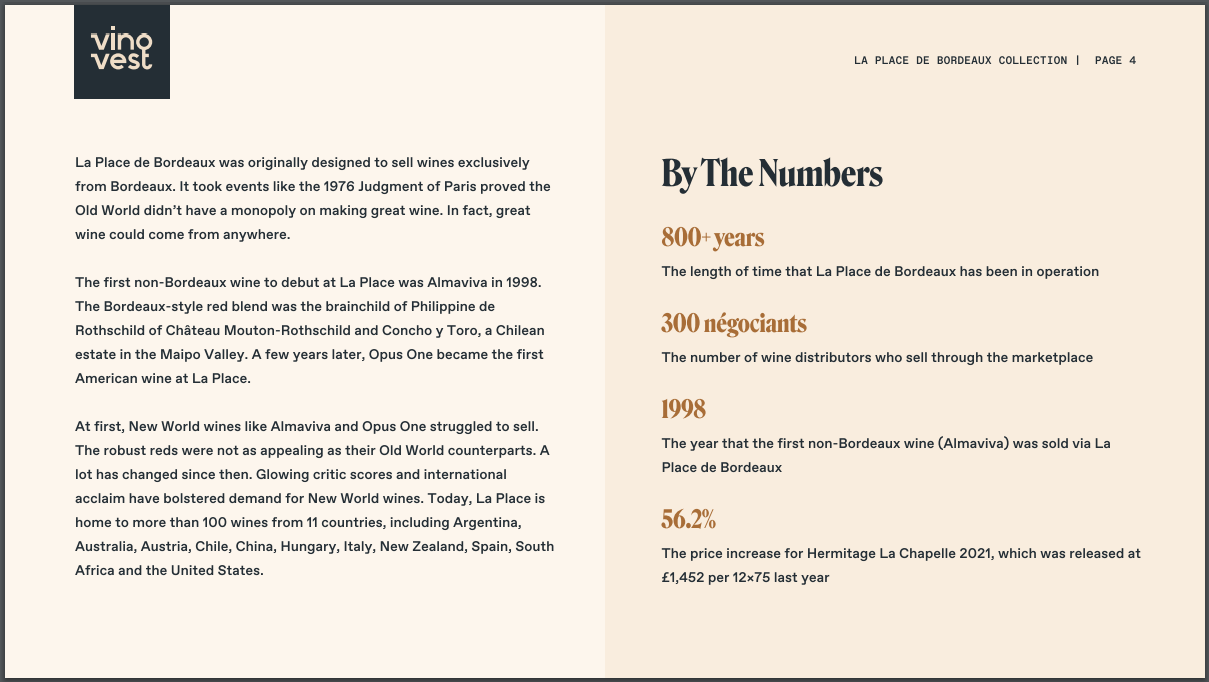 Importantly, as with the Managed account – you still own the wine bottles in your Trading account. They are not fractional investments.
Fees
There are three different types of fees for Trading accounts:
Buying – After purchasing a bottle, there's an up-front 2.5% fee. Baked into this is 3 months of storage and insurance costs.
Selling – A 1% fee for successfully selling wine. There is no fee for listing a bottle.
Storage – Every year there is a 1.5% storage fee, which is charged monthly from the cash balance of the account.
Using A Vinovest Trading Account
There are four main sections to Trading accounts – Marketplace, Collections, Portfolio, and Activity. We'll touch on all of them below.
Marketplace
The marketplace has quick links to the collections pages up top with a table of purchasable wine bottles from the secondary market beneath that.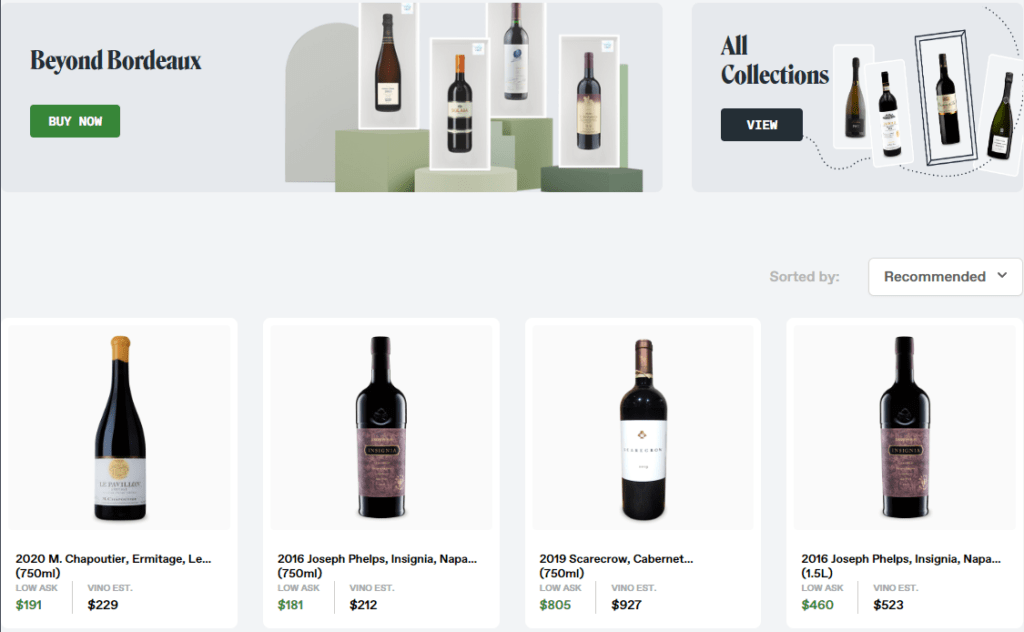 Tradable assets are displayed as "cards" that show a picture of the wine, a brief description, as well as the lowest asking price, and Vionvest's estimated value for it.
The marketplace cannot be searched. You either have to find specific bottles through the collections pages, or scroll through the entire asset list. The list can be sorted based on recommended or alphabetical order.
If you click on any asset, it will bring up a new window with more information and the ability to place a bid.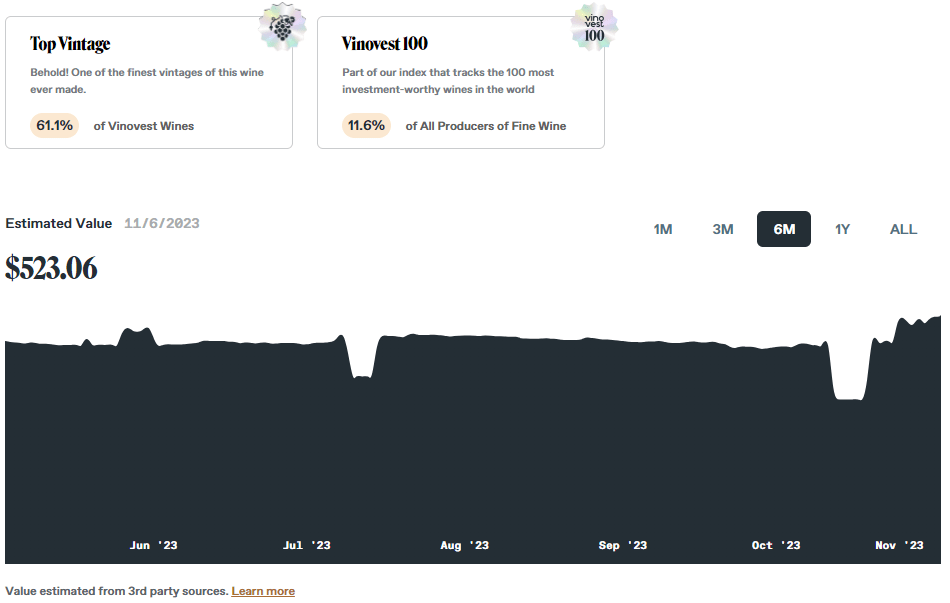 Collections
The collections page shows a list of all the wine collections available so far. If you click on an individual collection, you can see more detailed information about it. This includes a description, a link to more information, and the assets included in it.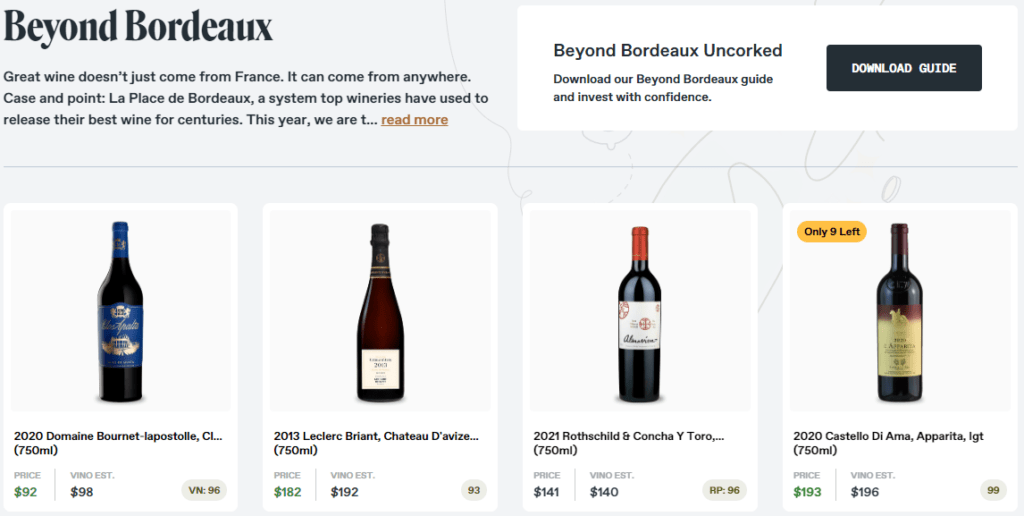 Similar to the marketplace, clicking on any one of these assets will pull up a window with more information about each of them.
Portfolio
As with the Managed accounts, the portfolio page shows a basic overview of what is in the account (bottles, cost basis, cash, and estimated value). It also shows the "cards" for each of the wine assets in the account.
Activity
The activity page contains a table of transactions like deposits, withdraws, purchases, and sales of wine assets from the account.
Vinovest Managed Vs Trading Accounts
You may be wondering which account type is right for you. Here are a few guiding principles to get started with the decision:
Minimum Investment – Is the $1000 minimum of a Managed account something you see as a barrier? Would you rather start smaller?

If you answered "yes," then a Trading account may be more your speed.

Time Involvement – Do you want something simple and passive?

If so, then a Managed account is likely a better fit.

Control – Are you someone that loves getting into the weeds and having full control over your investment holdings?

If you are, then definitely look at a Trading account.

Time Horizon – Does 5-7+ years seem like too much of a holding period?

Consider a Trading account or a Managed whiskey account.
One other, more complex difference between the account types is the difference in fees. I have made an attempt to model out what the fee difference would be between the two accounts on a hypothetical investment.
For this analysis I used the following assumptions:
A $10,000 initial investment
The value of the investment grows linearly at 1% each month
Investments are held for 10 years and then sold

Trading accounts face a 1% selling fee at the end of the 10 year period
Managed accounts sell within the ideal selling / maturity window and face no additional fees

Vinovest does not change the fees over the period of time
The results are actually a bit surprising.
In this example, the investment is worth almost exactly $33,000 after 10 years. That's a $23,000 gain in investment value. The Trading user paid $3446 in fees, while the Managed, Plus Tier customer paid $4550.
So it turns out the Trading account may be a better deal in terms of fees.
Other Alternatives
While there aren't a ton of other competitors in the space, Vint is the main alternative.
They offer a very different approach to wine and whiskey investing. They have collections of assets that you can purchase shares of for about $100. However, you don't directly own the wine in this model – just a share of a company that owns the wine. They also bake their fees into the offering price, so it's not a monthly withdrawl.
Learn More
That competitor we just mentioned, we've got a few resources on them if you'd like to learn more. There's also a detailed comparison between Vint and Vinovest if you're feeling unsure which is right for you.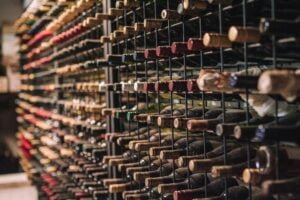 Vint Summary
A basic introduction to Vint, their historical performance, a summary of their offerings, and more!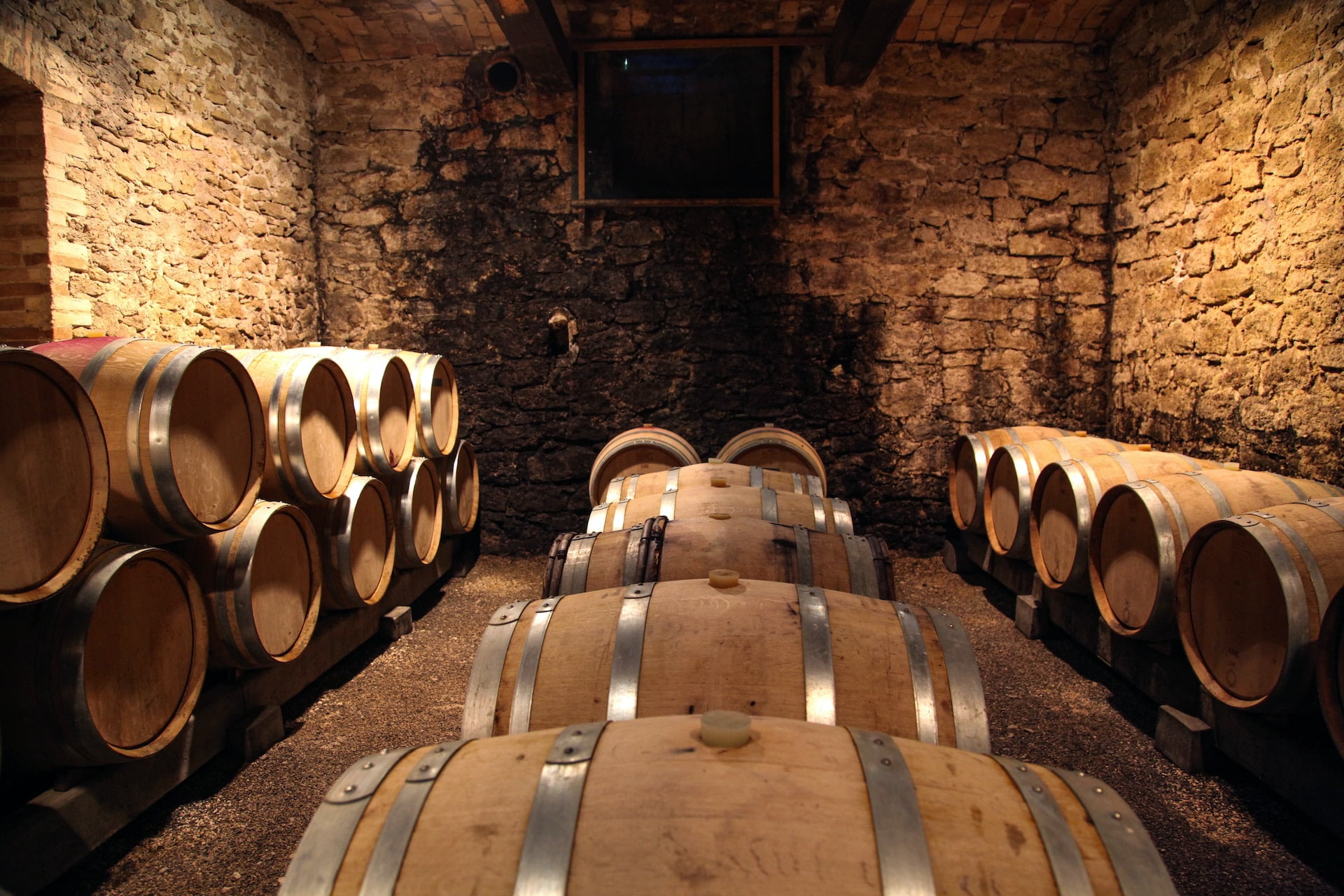 Detailed Introduction To Vint
This article will explain what Vint is and how to access their fractional wine and whisky investments.
You can also check out the Vinovest FAQ.
Vinovest Referral
If you're interested in opening an account, you can register with our referral link to save some money on fees. For funding a managed account, it will save you 3 months of fees. If you fund a Trading account, then you'll get 1 month without fees on the platform.
FAQ
Yes, Vinovest is a legitimate US business that offers a unique platform for investing in wine and whiskey assets.
Is Vinovest A Good Investment?
Whether Vinovest is a good investment or not depends heavily on your goals, risk tolerance, and individual circumstances. Investing comes with inherent risks – especially with alternatives – including the potential to lose your entire principal investment.
Wine and whiskey are interesting alternative assets that provide the potential for uncorrelated returns to the US stock market indices.
However, to invest on the platform you must consistently pay fees, regardless of the performance of your investment. It may also be difficult or impossible to sell the assets held on the platform at a desirable price, effectively locking capital up for an unknown period of time.
No, Vinovest is not "safe." Investing carries inherent risks, including the potential loss of principal. That is true of Vinovest as well.
That having been said, the company is a legitimate business and the platform has not had any major incidents that would call into question the integrity of their operations.
Whether Vinovest is worth it depends on your individual circumstances.
Vinovest's platform makes it easy and potentially passive to invest in the asset class. However, investors will face consistent fees, questionable liquidity, and potentially long holding periods.
However, investing in wine and whiskey requires certain costs (such as storage and insurance) and trade-offs no matter how you do it. So these drawbacks cannot be entirely avoided.
Where Is Vinovest Located?
According to their LinkedIn page, Vinovest is located in Los Angeles, California.
Who Is The Vinovest Founder?
Vinovest was co-founded by Anthony Zhang and Brent Akamine. You can read more about them and other key staff members on their About page.
Does Vinovest Have An App?