Vint makes it extremely simple to invest in wine and whiskey. Accredited and non-accredited investors can purchase shares of their collections for as little as $50. The Vint team takes care of finding high-quality assets, insurance, storage, and the sale of the assets.
| | |
| --- | --- |
| Wine's Potential Appreciation | 8-9% average annual growth (Liv-ex 1000 index) |
| Minimum Investment | $50 |
| Investor Requirements | Accreditation is not required |
| Liquidity | Extremely limited – No secondary market |
| Other Highlights | Fine wine and whiskey tend to appreciate in value as they age |
A high-level overview of some important characteristics of Vint. Please keep in mind that some aspects are related to the characteristics of the type of assets available on the platform.
If you'd like to learn more about this wine and whiskey investing platform, we've got everything you need to know to get started down below.
What Is Vint?
Vint is an investment platform that provides opportunities for fractional investments into wine and whiskey assets. All assets available for investment are shares of "collections" that have been qualified by the SEC. Additionally, Vint will handle insurance, as well as finding secure, temperature-controlled storage for all assets offered on the platform.
What Are Collections?
At their most basic level, collections are a wine or whiskey asset that has been divided into shares and made available on the Vint platform for investment.
Collections can be made up of only a single asset, as was recently the case with this Bowmore collection. They can also be multiple casks or bottles of the same asset, like with this Karuizawa collection. It is also possible for them to be a more diverse array of assets, such as with the South American Icons collection. This collection has a thematic focus – South America – but it contains almost 600 bottles of wine across 4 producers and 5 different vintages.
On a more technical level, collections are LLCs that own each bottle/cask in the collection. Investors are purchasing and will own shares of the LLC. Vint structures these as corporations for tax purposes. Any proceeds from collection sales will be paid out to investors as qualified dividends.
The Vint Investment Process
Vint will periodically source new collections and submit them to the SEC for qualification. After they have been qualified, the team will decide when to launch them on the platform.
Before anything goes live, investors get an email at least a day before announcing the new collection. The email will include the date and time the collection is launching, as well as a link to the listing. This listing will be in a preview state that provides the opportunity to review the offering.
Once the collection launch time hits, it becomes open for investment. Notifications through email and social media will follow shortly thereafter.
Many of these collections are relatively small (e.g. $50K) and can sell out in minutes.
Understanding Investment Listings
From the collections page, you can view the listing page for any asset that has been offered on the platform. Current collections (which have shares available for sale) will always be in a separate section at the top of the page.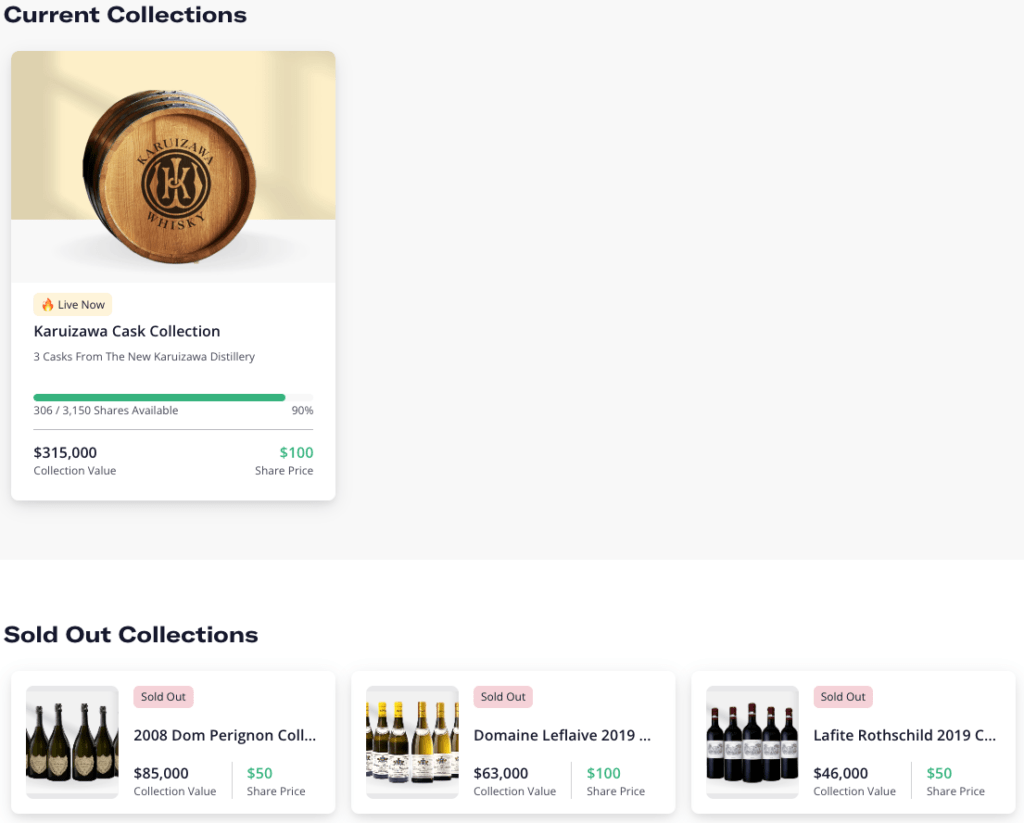 Collection Summary
Once you click on a collection, you'll first see a variety of high-level information about the offering. You'll be able to see:
Name of the collection
The total collection value
The total number of shares available
How many casks/bottles are included in the collection
The estimated sale window for the asset
The price per share
How many shares are available for purchase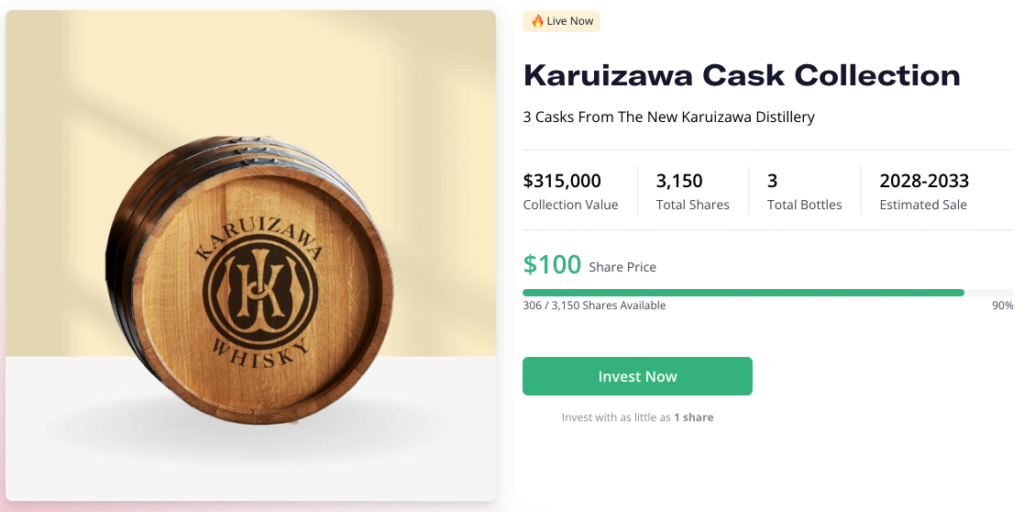 Overview
After the high-level overview in the collection summary, there are some additional resources below to better understand the investment opportunity.
The first pieces of additional information available to investors are the Key Highlights. This section outlines the pillars of the investment thesis for the asset.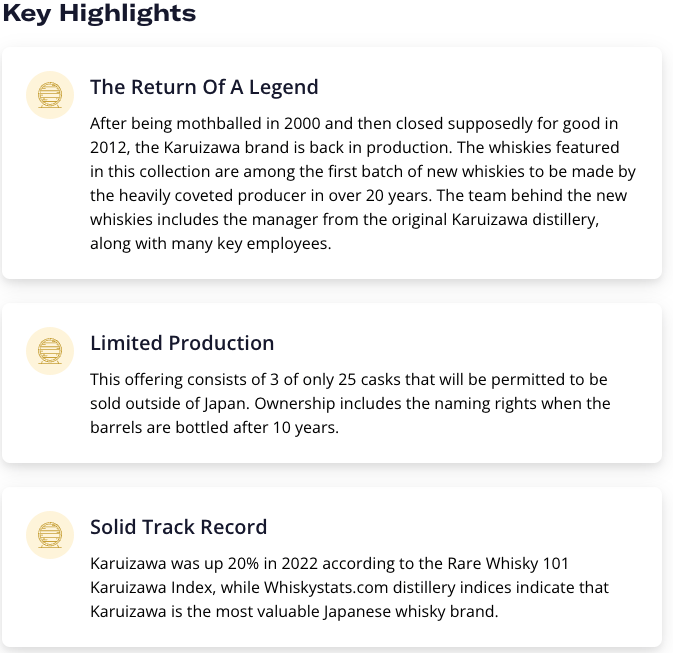 In the example above, we can see a lot of emphasis being placed on the brand and the history of the whiskey. In the past, the brand was well-respected and bottles still in circulation have seen strong appreciation as recently as last year. The casks in the collection are a unique part of a multi-decade history of the producer, being from the first batch in 20 years.
Additionally, we can see that scarcity of this Japanese whiskey is a key part of the thesis as well. There are only 25 casks that will be sold outside of Japan, and 12% of them are in this collection. If many of the rest are eventually consumed, then these casks could be a very rare piece of a historic vintage.
After the Key Highlights, there is also a Collection Description that can provide a more detailed written description of the asset, history, and investment thesis. However, these are often fairly similar to the information included in the key highlights.
There is also a link to an Investment Thesis document under the Resources section. The document is typically mostly made up of the same information we saw above. This includes the key stats, a written description of the thesis, and the investment highlights.
However, there is an important piece of new information. This is our first time encountering the historical returns. There's one other place to see it that we'll cover later.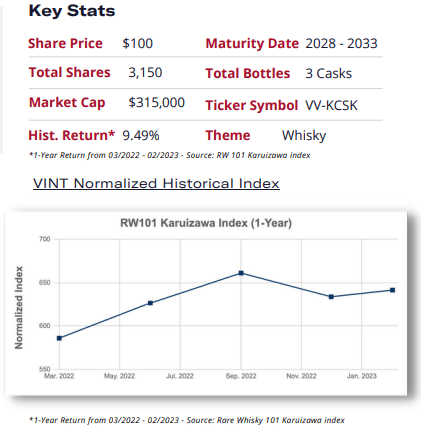 Here we can see the "historical return" for the asset and how that has fluctuated. Unfortunately, the "historical return" is only based on the last 1 year of data. That means we simply have to trust and assume that the Vint team is performing more sophisticated, multi-year analysis in curating assets for the platform. There is no way for us to see this, even for assets that are decades old.
We checked across multiple collections that have been offered on the platform across different periods of time. We did not find any that offered more than 1 year of data.
Lastly, there are two important things to note about the historical returns information in the investment thesis. First, it is the only place where we can see the graph showing the change in value over the past year. Second, for collections with multiple different assets, it is an aggregate value for the overall collection.
Collection Table
There is one more informational tab, other than the Overview. From the Collection Table, investors can see a table of all the different bottles or casks included in the collection.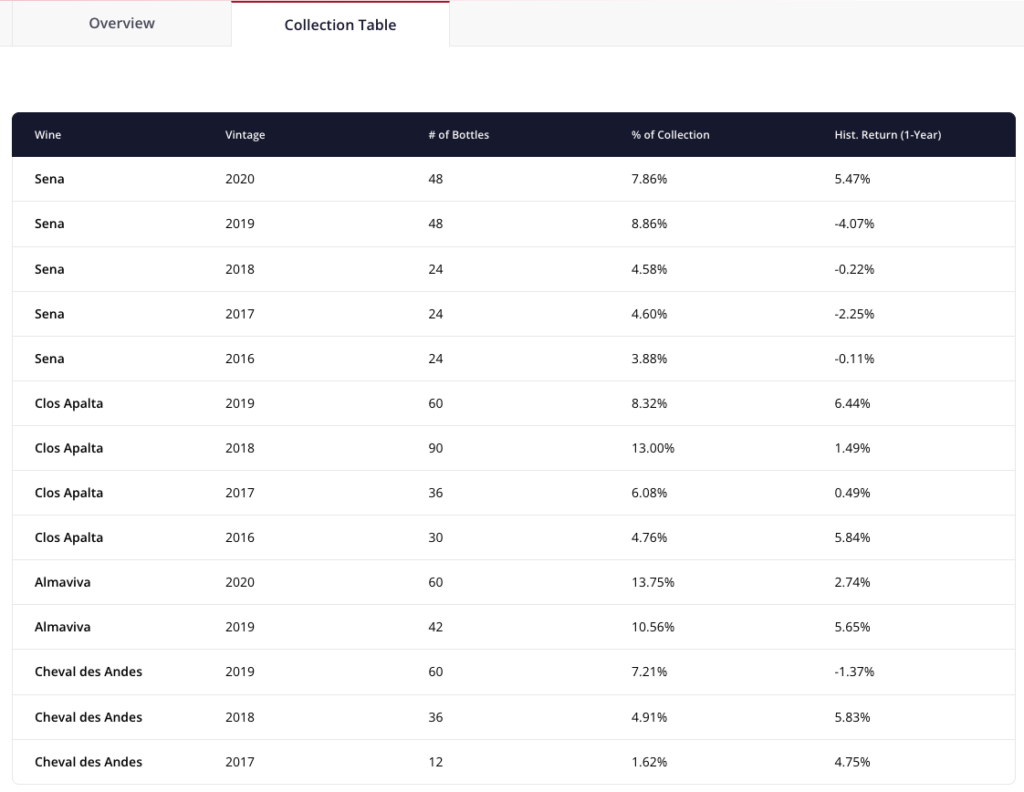 This includes how much of the collection each asset represents, as well as the historical return for each asset type. While the Investment Thesis document is the only place that shows an aggregate historical return for the collection, this is the only place that you can see it for each item in the collection.
Vint's Fees & Expenses
Fine wine is known to get better with age, but not under all circumstances. In order for the wine to age gracefully and avoid damage, it has to be stored in certain temperature ranges, the temperature has to be kept stable, and light and humidity have to be taken into consideration as well. That's not all either, Wine Spectator lists all of these, and more, in their list of 7 wine storage basics. Yikes!
Thankfully, Vint manages all of this for us. However, that doesn't mean it comes for free. The total expenses for a listing tend to be about 3.2% of the total price. Additionally, Vint charges a sourcing fee for each asset. This can range from 0% to 35% of the total offering amount at Vint's sole discretion. This is based on their filings with the SEC.
What has that looked like in practice?
Here's a bar chart of how the offering funds were split between asset cost, expenses, and the sourcing fee for 13 recent collections:
All information is taken from Vint's SEC filings. This chart originally appeared in our Vint vs Vinovest article.
All fees are effectively paid "up-front" when the investment is made. There are no fees that will be charged to your account after making an investment on the platform.
The Portfolio Page
If you click the Account link in the top right-hand part of the page, it will open up a menu. From there, you can navigate to the Portfolio page.
From here you can see a high-level overview of the total value of your positions, any pending distributions, as well as your lifetime returns. Below that, you can see tables breaking down your holdings, as well as your distributions.
Distributions are the payouts generated from a partial or full sale of a collection.
Frequently Asked Questions About Vint
Yes, Vint is a legitimate business. They have raised millions of dollars in venture capital funding from investors.
Additionally, all of Vint's offerings are qualified by the SEC. That means the company has submitted detailed documents to the SEC about their offerings, the SEC has reviewed them, and the SEC has given a notice of qualification.
What Tax Forms Will I Receive?
If investors receive distributions from a collection sale, they will receive a 1099-DIV tax form.
US citizens over the age of 18 can make investments on Vint.
Where To Learn More About Vint
To learn more about Vint, consider taking a look at their FAQ. Additionally, their blog contains posts about wine and whiskey investing, as well as occasional posts about the investment platform and the company.
We also have some additional resources worth checking out: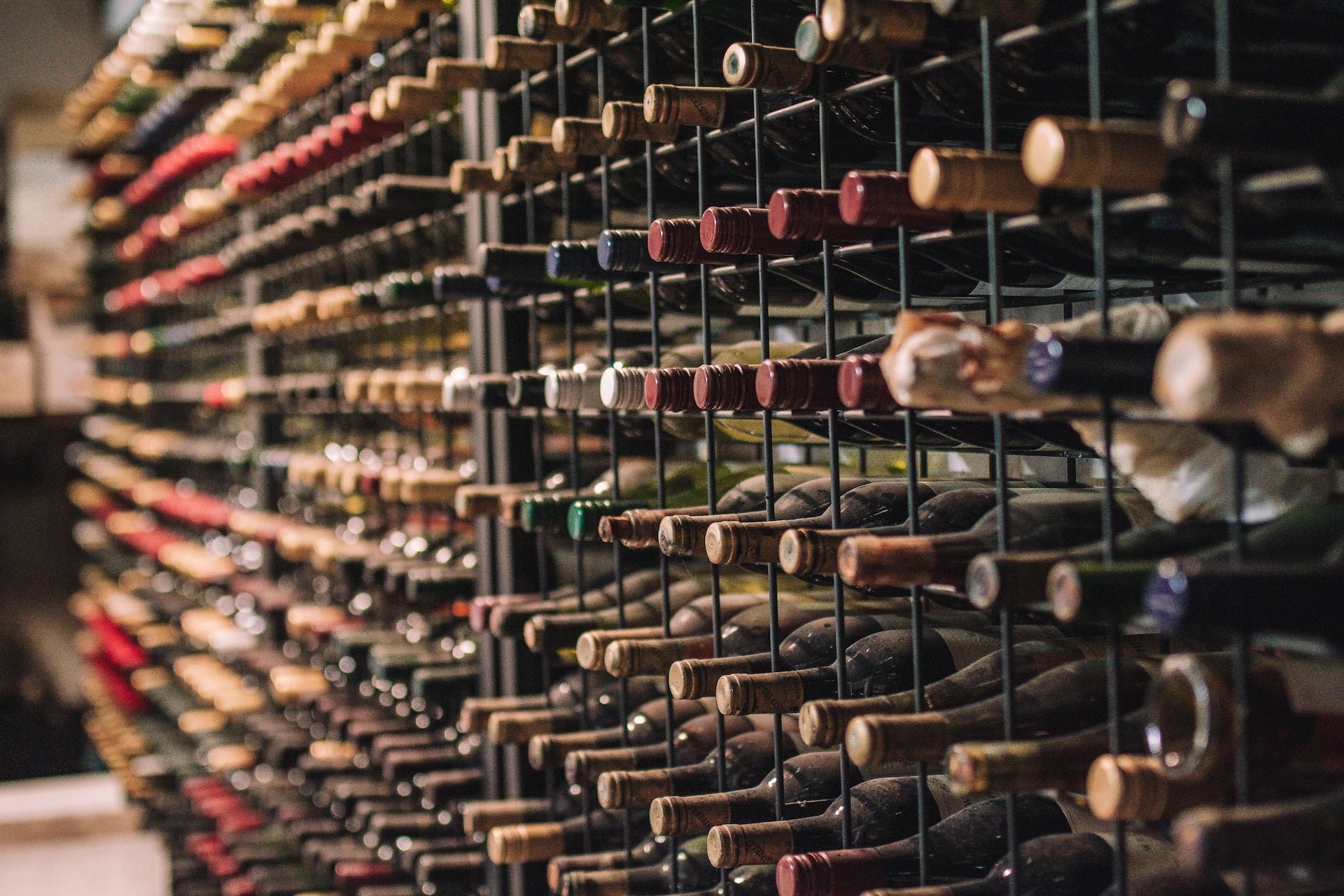 Vint Summary
A basic introduction to Vint, their historical performance, a summary of their offerings, and more!
To support an ad-free experience, we may earn a commission from links on this page.