As we approach the end of 2023, should you invest with Royal's music NFTs in 2024? Is this a good place to start building or growing music royalties as part of your portfolio?
Probably not. Actually, I'd recommend you do yourself a favor and let me tell you why you're better off elsewhere and what I've seen following and using the platform basically since it launched.
Read below to learn more, or you can watch a video breakdown instead:
---
Royal has a bit of an identity crisis. Who is the platform really for? To some extent all music royalty investment platforms face this.
There are basically three groups of people that they can appeal to, and most explore trying to appeal to all of them. The groups are:
Music Artists / Rights Holders
Music Fans
Investors
A given platform can be more focused on one or a subset of these categories. So, where does Royal fall? Let's start by looking at the origins of the platform.
Who Is Behind Royal?
Royal is founded by artists Justin Blau (3LAU) and JD Ross. The company raised $55M in a Series A round, which was notable, in part, because of how many artists participated in the round. The disclosed list includes The Chainsmokers, Nas, Logic, Stefflon Don, Kygo, Joyner Lucas & Disclosure.
Royal.io's Artist Experience
As we can see, this is a platform by artists. But is it for artists?
In a lot of ways, yes. In their pitch to artists, Royal notes that they can:
Get 10+ years of royalty revenue upfront by selling a portion of streaming rights to your fans.

Royal's Artists Page
Well, if the artists are getting 10 or more years of royalties up front, that also means that investors won't break even on their investment for 10 or more years as well.

That valuation isn't horrible for older songs with very stable earnings, but the drops on Royal are often from independent artists and younger songs. They simply have less track record and a lot more uncertainty around their performance.
In some cases, drops are for brand-new songs where it's kind of a gamble as to how they'll perform.
This is nice for artists that want to de-risk their earnings from a new song or album. By selling tokens up-front they get a guaranteed minimum amount of money from the release, even if it completely flops.
Artists will also receive 2.5% of the final sale price of all tokens traded on the platform. This can give them a source of ongoing income from Royal's marketplace, even after the completion of the drop.
All-in-all, there's a lot to like for artists.
The Experience For Music Fans
What about the fans category?
There are a few features of the platform designed to engage and cater to them. First, there are exclusive perks associated with some of the tokens. This can include things like access to a Discord server, 1:1 video calls, and even VIP concert tickets.
While the tokens with the most desirable perks can be quite expensive, it's also one of the few chances regular people will have to get that kind of direct engagement with rising artists. Imagine how much it would cost for an exclusive, hour-long video chat with Taylor Swift.
The tokens and the Royal platform around them are trying to feel like collectibles. There's even a leaderboard for who owns the most tokens. If you're curious, Craig is currently leading at 283 tokens. You'll need 138 to land a spot in the top 5.
Fans also can receive private communications from the artist through the platform.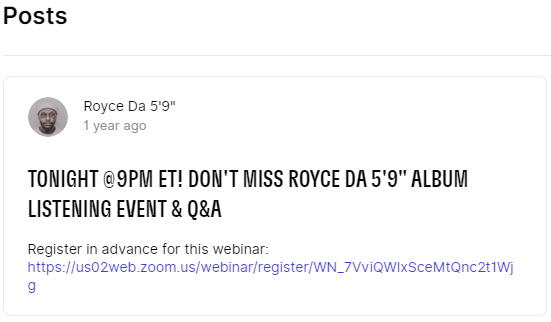 There is also room for a virtuous cycle between artists and fans. Since fans can benefit from an artist's growing success, they have a vested interest to stay engaged and spread the word. Artists then get a dedicated fan base that can help market them.
All-in-all if you look at it as a collectible that you're happy to own just to collect or for the perks, maybe the fact that it pays any dividends at all is just a cool bonus.
Royal's Problematic Experience For Investors
Now, let's look at ourselves. The investors. What does this platform look like for us?
Purchasing Tokens
You can purchase new tokens through occasional drops. You can also buy and sell tokens from previous drops on the marketplace. And you can maybe earn royalty payouts from them – more on that later.
When trying to make an investment decision, information is very limited. There is not much data on the past earnings or future projections.
To actually secure a token from a new drop, you may have to fight through a kind of lottery process to win a chance to purchase them. The drops can be competitive, so you can enter multiple times to increase your odds. That means you could also win multiple times and be required to purchase more tokens than you originally intended.
Royalty Payments
The royalty payments that you do receive will arrive inconsistently and in the form of USDC on the Polygon blockchain.
That means you'll have to go through a bunch of hoops to get that money into your bank account.
The entire process is complicated by needing to use another third-party institution to transfer money into your bank account. If those financial institutions don't support trading of USDC on Polygon, then you'll have to jump through another exchange first.
Along the way, you're also likely to encounter gas and trading fees. So, you effectively pay a penalty for trying to get your royalties into a bank account.
Royal did say that regular bank transfers would be available for investors, but there have been no updates on the availability of this for over a year.
Inconsistency Of Delivery
Earlier this year, Royal updated the listing page for their drops to clarify that "automated payments" are off. This explains a whole lot.

Royal's payouts have always been inconsistent. At one point, it seemed like they were improving. I imagine Royal was pushing and coordinating with everyone to try to get payments out more reliably. They'd also tweet about the month's payouts.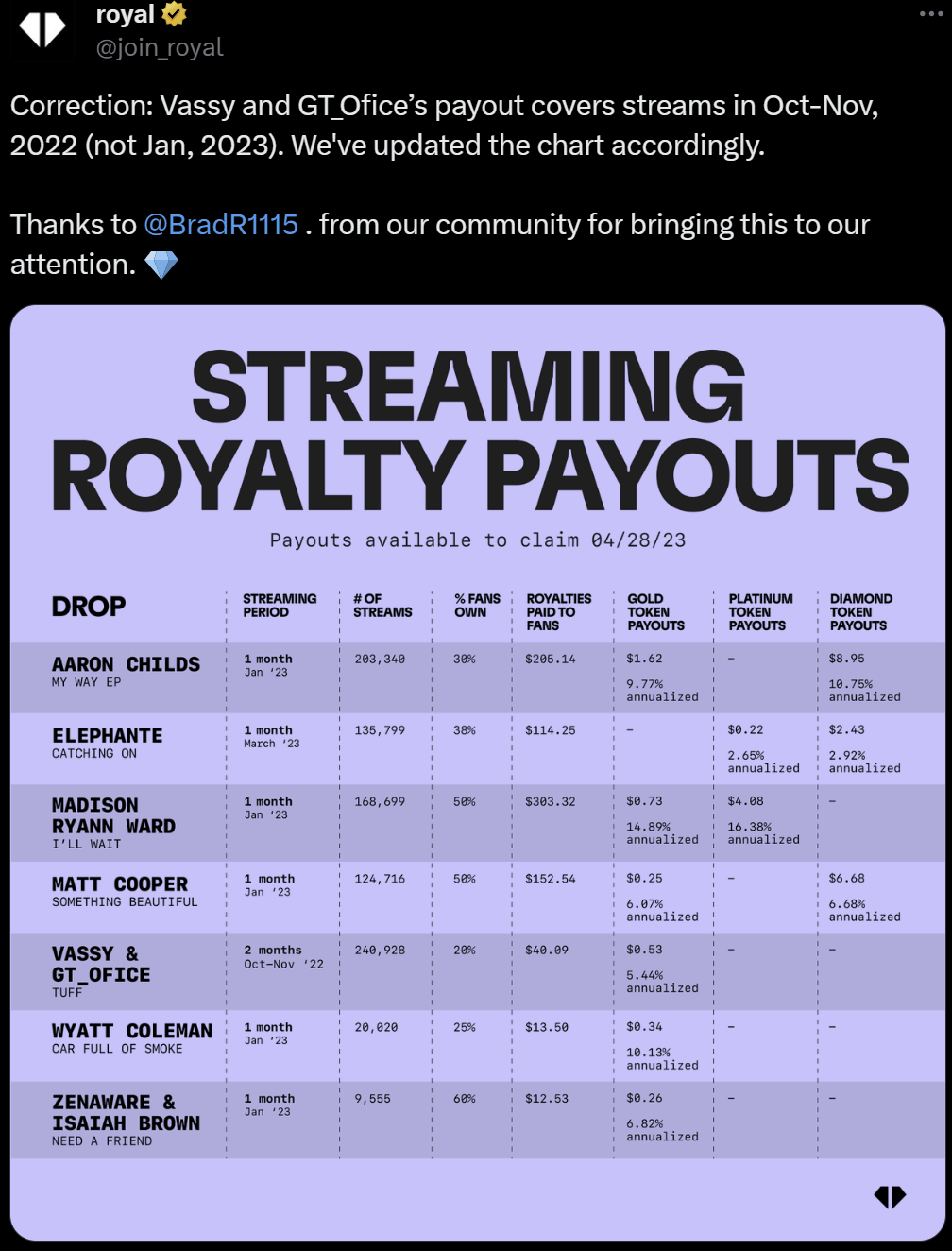 That doesn't happen anymore. Perhaps that's simply because there are just too many artists and drops for Royal to be able to manage.
So, you never know when you'll receive royalty payouts or IF you'll receive them at all.
This isn't normal.
Most of the companies involved with the tracking, processing, and delivery of royalty payments to rights holders have regular and predictable payout schedules. These are usually quarterly, but there are some that are twice-per-year, as well as some that provide payments monthly.
Most investment platforms then build regular payout schedules to investors around this. For example, SongVest delivers royalty payments for investments on their platform around the 15th of February, May, August, and November.
When Royalties Don't Come
Inconsistency of payments is much better than no payments at all, which does sometimes happen.
For this, we'll look at an example from a drop called "Caterpillar." This first dropped on June 28th of 2022.
I'm unfortunate enough to be an owner of one of these tokens. I picked it up from the marketplace in late November of 2022 thinking that my patience would pay off.
Almost 1.5 years after the initial drop there are still no payouts.
In the nearly one year I've been a token holder, there has been no communication about the issue either. I tried emailing and tweeting to Royal without any response.
I simply see no evidence that there is, was, or has been any legitimate attempt to provide the royalty payments that Royce Da 5'9″ contractually owes token holders.
This example also highlights the weakness in Royal's protections against fraudulent activity and a lack of interest in investigating potential breaches of contract or fraudulent listings. A search on their help center shows no results for "fraud."

It's also important to remember that none of their drops are qualified by the SEC either. So, there simply may not be any mechanisms in place to ensure that artists deliver their payouts or even the perks that they promised in the drop.
When An Offering Bombs
Let's look at one last issue as well. When we talked earlier about artists, one of the benefits for them is some financial protection if a song flops. Well, what does that look like for investors? 
For that, we can use the "Gimme Some More (Club Mix)" drop as an example. They sold 171 Gold tokens at $65 a piece and 1 platinum token for $299. That total is just under $11,500 raised from the Royal drop.
Investors have received a grand total of $19.37 of royalty payments since the drop occurred on December 1, 2022.
That is in part because there has been only one payout at the end of March 2023.
The first year is typically the best year of earnings for a song as well. Royal's forecast for the next one year is for things to be pretty similar. They expect royalties from November 2023 to November 2024 to total about $30 for investors.
Even if the song performed exactly as expected and earnings never declined from this level, it would still take 384 years for investors to make a profit.
If you're stuck holding one of these tokens, you might want to try to cut your losses and sell it on the marketplace. If you succeed, 2.5% of the sale price will go to the artist, allowing them to extract further cash from their disappointed investors.
Conclusion
If I had to summarize my thoughts on Royal, it's basically a platform by artists mostly for independent artists. By definition and necessity that also brings fans into the group of people that are Royal's core audience.
It's really not a place that's trying to win investors over.
It has a slew of painful shortcomings including a lack of investor protection, a woefully inept system of getting royalty payouts to investors, offerings of widely varying and hard to predict quality, and the web3-basis make it a pain to get what royalties you earn into your bank account.
This isn't financial or investment advice and you can do what you want with your money. But if you're seriously interested in investing in music royalties, I sincerely believe this is the wrong place to do it.
Learn More
If you'd like to learn more about Royal or Music royalties, check out our other resources.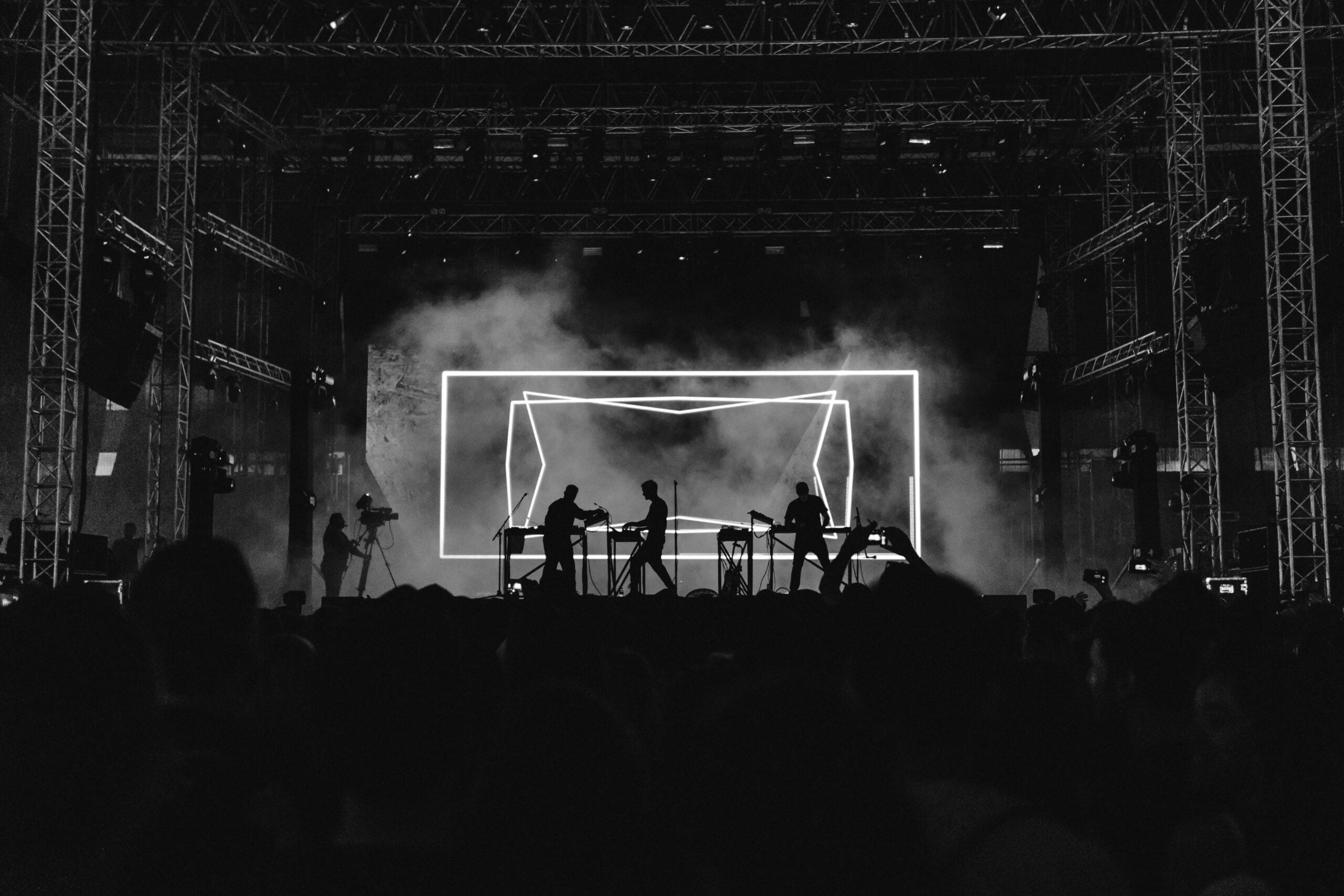 Introduction To Music Royalties
New to the asset class? No worries, this accessible introduction is a great place to get started!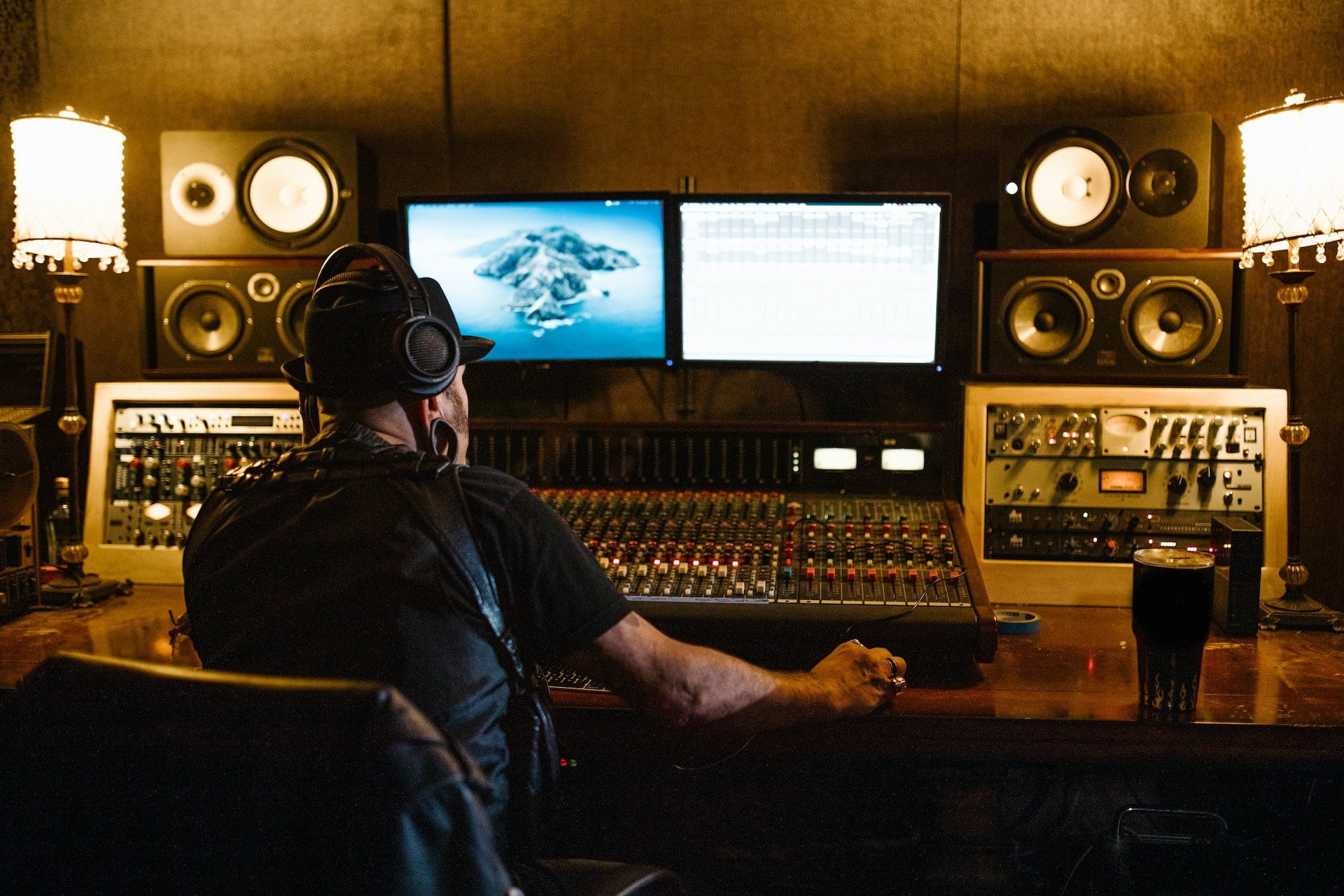 How To Value Music Royalties
This detailed guide will help you avoid common investing pitfalls when investing in the asset class.