News first began circulating about the Fundrise Innovation Fund around July of 2022. Since then, things have been a bit quiet as the fund ramped up. Now, the Fundrise Innovation Fund has started to make investments.
Fundrise Innovation Fund Recap
For 10 years, Fundrise has focused on building out a robust real estate investment platform that is easily accessible to retail investors. That strategy has been wildly successful as they now have more than $2.5B of real estate assets under management.
Now, Fundrise is looking to broaden its horizons into the venture capital markets. The Fundrise Innovation Fund will grow into a $1B fund focused on high-growth technology companies.
Why Venture Capital?
The stock market for investing in public companies goes through various phases over time. With the exception of the SPAC craze of the early 2020s, we've generally seen fewer companies come public in the most recent phase of the market. For those companies that do come public, they are in the more advanced stages of growth when compared to past decades.
While there are many reasons for this, one of the main drivers is the development of the private markets and the availability of funds. There may be no better example of this than Uber. They managed to raise nearly $20B in debt and equity before their debut on the public markets.
By the time the general public first got an opportunity to invest in Uber, it was at $45/share and a valuation around $82B. To put that Even after the bear market in the stocks, Uber's current $49B valuation makes it the 308th largest company in the world by market capitalization.
When Uber went public, early investors were able to cash out when the company went public for massive gains. On the other hand, the general public only got to buy into a company that was large, mature, and unprofitable at a huge valuation.
Another important, defining characteristic of the venture capital market is that it is highly inaccessible to the average person. Many investment opportunities are exclusive to ultra high net worth individuals and exclusive funds. Equity crowdfunding platforms have helped to make the asset class more accessible. However, the most promising companies simply have no need to use them and oftentimes do not.
What Does The Fundrise Innovation Fund Bring To The Table?
So, what's special about the new Innovation Fund? There are a few things.
First, it's a venture capital fund open to retail investors with an incredibly accessible minimum investment of $10. To put that in perspective, I have personally seen companies pitching venture capital funds with $25,000 minimum investments as highly accessible relative to the industry at large.
Second, the fee structure is both simple and disruptive. Most funds charge what's commonly known as a "two and twenty" or "one and ten." That implies two types of fees – an asset management fee and a performance, incentive, or "carried interest" fee.
The asset management fee is simply 1% – 2% of the total value of the fund per year. Then, on top of that, the performance fee is 10% or 20%. This can be of any realized gains or if the gains exceed a certain benchmark.
The Fundrise Innovation Fund only charges an asset management fee.
Innovation Fund Investments So Far – Breakdown
Fundrise has made just over $39M in total investments so far. You can see a breakdown below:
So far just under half (49%) of investments were made into corporate bonds. This aligns with Fundrise's general view that the rapid rise in interest rates would create strong opportunities in the private credit market.
The remainder of investments have been into companies with late-stage leading the way at ~25% of total investments. The remaining deployed capital has been to mid-stage companies (~15%) and early-stage companies (~10%).
By industry, those investments have mostly been "Other" due to how the fund classifies ServiceTitan. PropTech and Data Infrastructure are the two other industries where investments have been made so far.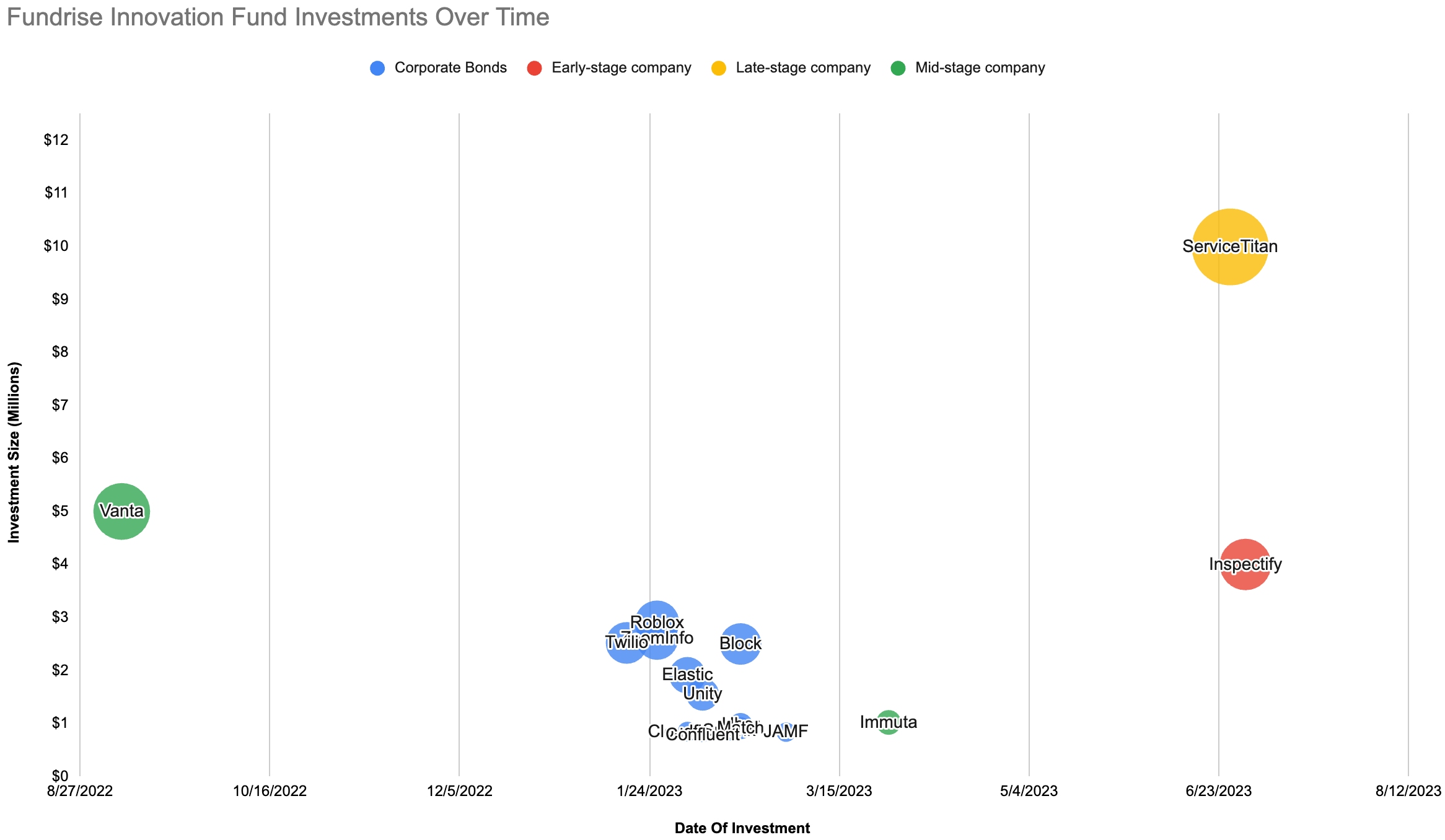 Lastly, we have a look at how these investments have been made over time. You can see the investments plotted by their size and timing, as well as their classification.
In terms of companies, so far the fund has invested in Vanta (covered below), Immuta, ServiceTitan, and Inspectify.
Vanta Investment – Deep Dive
The Fundrise Innovation Fund is targeting investments in earlier-stage, high-growth technology companies. After debuting a detailed thesis and overview of Modern Data Infrastructure, Fundrise has announced its first investment in the space. They've invested $5M in Vanta's Series B fundraising round.
What Is Vanta?
Vanta aims to simplify and automate an important and expensive part of many businesses – compliance with security and legal frameworks. For example, HIPAA is a US regulation focused on privacy protection and safe handling of personally identifiable medical information.
Imagine you wanted to develop a software or service that would help hospitals. Let's also assume your solution will be processing or storing medical information. In order for the hospitals to use it, they need to ensure it will not violate any of the HIPAA rules. To do this, they may require you to provide documentation and certifications around the operations of your service and business. That's not an easy or cheap process.
That's just one example. There are many more frameworks than just HIPAA. This is especially true for companies operating internationally.
For many companies, compliance is an unavoidable requirement for doing business. If Vanta can deliver on its promise to make this easier, faster, and more automated, companies could easily find its products worth the price of admission.
Conclusion
Fundrise is continuing to extend the opportunity to invest in the Innovation Fund to more users on the platform. With the investment in Vanta, Fundrise has started deploying its assets under management, while it also continues to grow them.
It's also encouraging to see that Fundrise was able to invest alongside the VC powerhouses Y Combinator and Sequoia on their first investment. Hopefully this is just the first of many high-quality opportunities for the Innovation Fund.
For anyone that would like to get started with Fundrise, our Fundrise referral link will get you a bonus $50 when signing up.
Where To Learn More About The Fundrise Innovation Fund