What Is Fundrise Pro?
Fundrise Pro is a new subscription service. For $10 per month, or $99 per year, investors get access to a mix of features. Some features were previously available for free (we'll talk about this more in a bit) and some are new. Specifically, subscribers will be able to:
Make direct investments into specific funds
Build a custom investment plan
See more data about real estate markets and metro areas
Access Wall Street Journal articles that would otherwise require a subscription to the publication
How Do You Sign Up?
On the website for the new subscription service, it states that users can try Fundrise Pro for 30 days for free. However, it appears that existing subscribers may see an offer to try the subscription for free for all of 2023. You can find the "Fundrise Pro" option under the Profile & preferences page.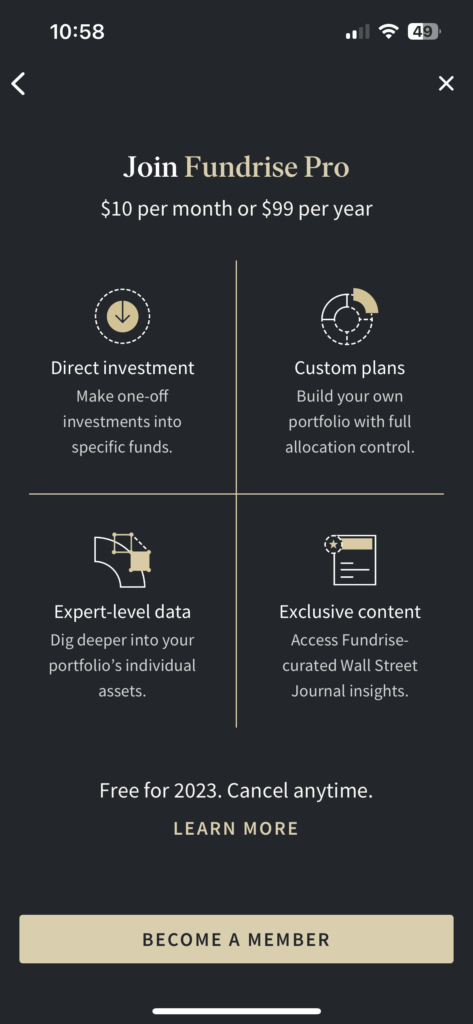 If you click on "Become A Member," it requires you to choose whether to pay monthly or yearly, select a payment method for the membership fee, and then confirm your information. On the mobile app this seems to error out, but we were able to get it to work on the website.
What About The Old Model?
Investors with a certain amount of money in their account may recall that they used to be able to make direct investments without paying for a subscription.
In the old model, Fundrise charged an asset under management fee that was based on your account tier. Accounts with more funds unlocked lower fees and additional features, such as being able to make direct investments into specific funds. There were simply no subscriptions.
I can't provide any of the specifics for the old models as it appears that Fundrise has taken down all of the resources around this. Their help article about account levels just redirects to the general help page.
While I don't see anything formally announcing a transition of business models, it seems like the old model is quite simply dead.
Is The New Model Good?
Despite the surprise changes, the new model may not be bad. According to the fee page, which appears to have been updated for the launch of Fundrise Pro, there is now a flat AUM fee of 0.85% for real estate and 1.85% for the Innovation Fund. I believe the new real estate fee is lower for at least most of the account tiers.
For anyone that wants to keep things super simple and completely passive, the lower fees are likely a simple win.
However, for anyone in the higher account tiers that liked making direct investments, they'll now have to decide whether it's worth $99/year. That's the equivalent of paying an extra 1% yearly fee at a $10K (a previous account tier threshold) account balance.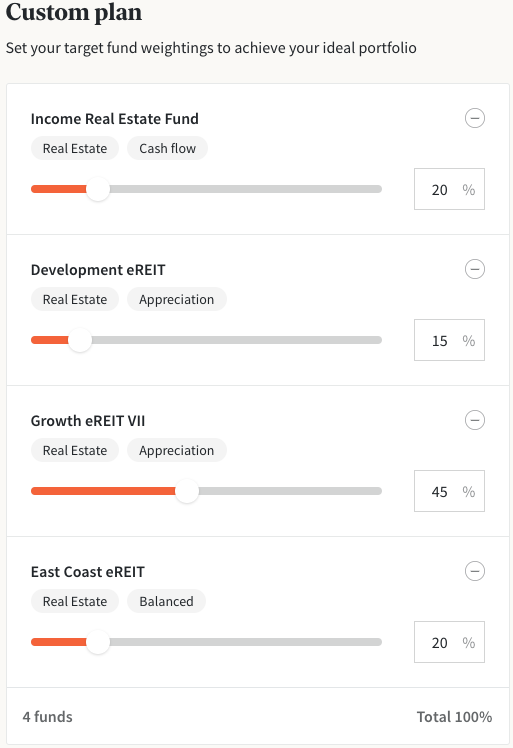 On the other side though, it does come with the ability to create a custom investment plan. This much-requested feature is sure to appeal to those that want greater control over their portfolio while still being able to leverage automated investing.
There are 12 funds that show up in the list of investment offerings, but only 8 can be added to a custom plan.
Whether this change is good or bad is going to depend on the person. It's good to see Fundrise trying to provide lower fees and new features, but moving a previously "free" feature behind a paid subscription is sure to upset some users.
Fundrise Referral Code
Are the new changes exciting to you? Have you been meaning to sign up anyway? If so, we'd highly recommend doing so using our referral link. It'll get you $50 in bonus shares when you sign up.