If you take a look at any of Here's social media channels, you'll see only a couple of posts after the end of September. After being quite busy in the late summer and early fall, this seems like a surprise. Let's try to take a deeper look at what's going on.
The Launch and Scaling of Here
Despite having over 100,000 registered users, Here is a very new investment platform. It has been less than a year since their first investment opportunity went live. Before we look at whether things have been as quiet as they seem recently, let's understand how the platform scaled up in 2022.
Funding
Here has been through two rounds of funding so far. The first was a $2M pre-seed raise at the end of February 2022. The second was a $5M seed round in July of 2022.
Here also has an ongoing equity crowdfunding raise on WeFunder with over $3M reserved so far.
At first blush, this might seem like a lot of money. However, this level of funding pales in comparison to the hauls from some other competitors. According to Crunchbase, Arrived Homes raised a staggering $162M in funding since their founding in 2020 and Landa pulled in $95M since getting started in 2019. Here's $7M is more in-line with totals raised by Lofty ($5M) and Ark7 ($2M).
It's difficult to gauge how much their funding influences the amount of offerings and timing of offerings that arrive on the platform.
Property Offering Rate
There were 8 total properties that launched on the Here website, sold out their shares, and had the offerings successfully closed.
At the end of 2022, there were also 5 property offerings that were successfully qualified by the SEC, but were not launched or were withdrawn. This figure does include Mountaineer, which looks set to launch soon.
Let's take a closer look at how the offering rates changed over time.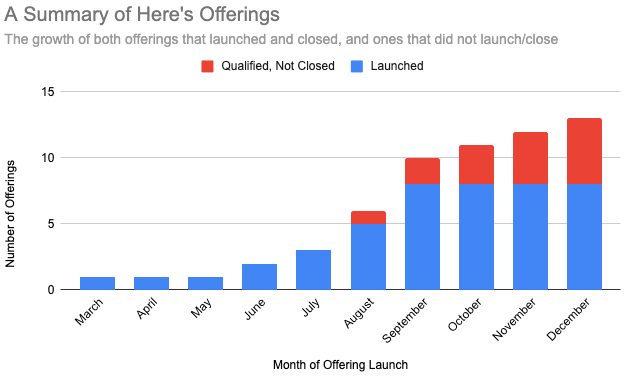 Things got off to a slow start for Here. After their first offering launched in March, it wasn't until June that the second offering came.
This is likely due to the company's funding. Unless their pre-seed round occurred significantly before it was reported, it seems unlikely that the first property was acquired with the help of any outside funding. If that were the case, it's possible that Here did not have any other properties in their pipeline at the time funding was received. It's easy to imagine that fundraising would have taken a lot of time and energy from the founding team. They also couldn't have been sure if they would receive funding, how much they would get, and when it would arrive.
June and July each saw a single successful property launch. Then, things picked up heavily. August saw 3 additional offerings, matching the total amount from the prior 5 months. September was even bigger with 4 new offerings.
This period of high-activity seems to have been short-lived. Each of October, November, and December each saw an offering qualified, but two weren't launched and one was withdrawn.
The Macroeconomic Environment
To say 2022 was a turbulent year for monetary policy is an understatement. With inflation raging, the Federal Reserve transitioned from a policy regime designed to stimulate the economy to one with a focused intent on slowing it.
This resulted in large changes in interest rates, and subsequently mortgage rates, as well as property values. There is clear evidence that these changes have affected the way Here and other platforms are approaching providing new investment opportunities.
What Happened With Magnolia
Perhaps the clearest example of this was the Magnolia offering. Originally launched in early October, Magnolia was a newly-constructed home in Broken Bow, Oklahoma on a large, two acre forested lot. By late November, Here announced that they would be withdrawing the offering due to issues securing favorable debt terms.
Due to rapid changes to the US interest rate environment, we have decided to terminate the Magnolia offering, as it does not appear that we will be able to close this purchase with favorable debt terms.

As a result, all Magnolia investments will be canceled…

– Taken from an email update from Here, "Update: Your Investment In Magnolia"
It is possible that similar concerns resulted in other offerings that had been in the pipeline never making it onto the platform.
How This Affects Strategy
In email correspondence from Here's Investor Relations team, they emphasized that the company's focus for the next few months is providing new offerings without debt. They are hoping to be able to bring 1-2 new offerings to the platform each month.
Here Isn't Alone
Here isn't the only fractional real estate investing platform having to adapt to more difficult market conditions. The CEO of Arrived Homes stated in a January email to investors that:
In reaction to changes in the housing market, over the last 3-4 months we've adjusted our offers to reduced price points in order to acquire at prices we believe will be well-positioned to maximize investor returns over the long term. This also means we might have limited inventory available on Arrived at times.

– Taken from an email update from Arrived, "CEO's Note on Current Market and Inventory"
These adjustments seem far from theoretical. Regular investors on the Arrived Homes platforms likely have noticed a slowdown of offerings. Arrived currently has 4 properties that have been "coming soon" for several weeks – much longer than usual.
Conclusion
If you only started following Here more recently, you might be surprised to hear about some of the offerings that were withdrawn or planned to launch toward the end of the year. This is because Here scrubs their website and social media accounts of any information related to these offerings.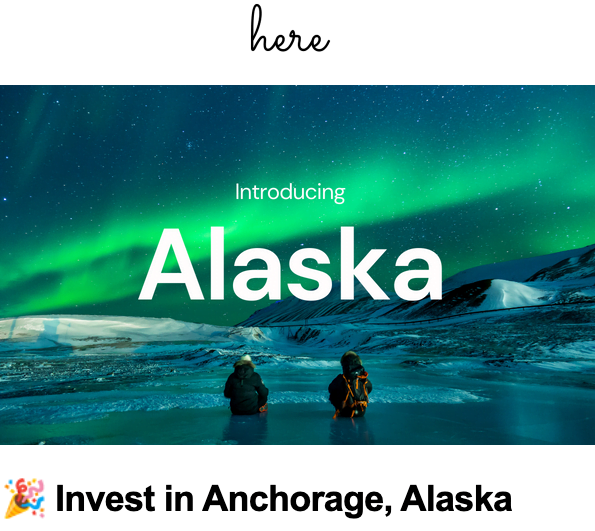 Posts like the one above are now only available in old emails. This contributes to the perception that things have been quiet for several months now. However, things haven't been as quiet as they appear. There are a few different reasons why:
The surge of launches that occurred in August and September appear to have been unsustainable. It seems like 1-2 property launches per month will be the normal cadence of listings from Here.
The turbulence in mortgage rates and property valuations that occurred in late 2022 likely disrupted several listings that otherwise would have made it to investors.
Uncertainty in the market is likely making it harder to find the right opportunities and Here doesn't want to put up a listing just for the sake of having a listing.
In response to these challenges, Here is adapting. They're being more selective and building offerings without mortgages.
Today, Here announced the next property listing would go live on January 25th. For the Mountaineer, Here is revisiting the Blue Ridge Mountains in Georgia. This is the same location as the Tanglewood from August 2022 and an area that Arrived Homes has also had multiple listings in.
This will also be the first listing on the platform that hasn't been in a new market. This could just be a coincidence, or it could be another sign of adaptation. They may be prioritizing revisiting old markets they already have experience in and where they believe valuations are more stable.