Arrived Homes
Earlier this week, we took a look at what investors might be able to expect from Arrived Homes' returns.
It seems the Arrived team was also thinking about this. On Wednesday they debuted an updated return estimation with a new returns calculator. This is available on the three new vacation rental offerings from May 11th, such as this one.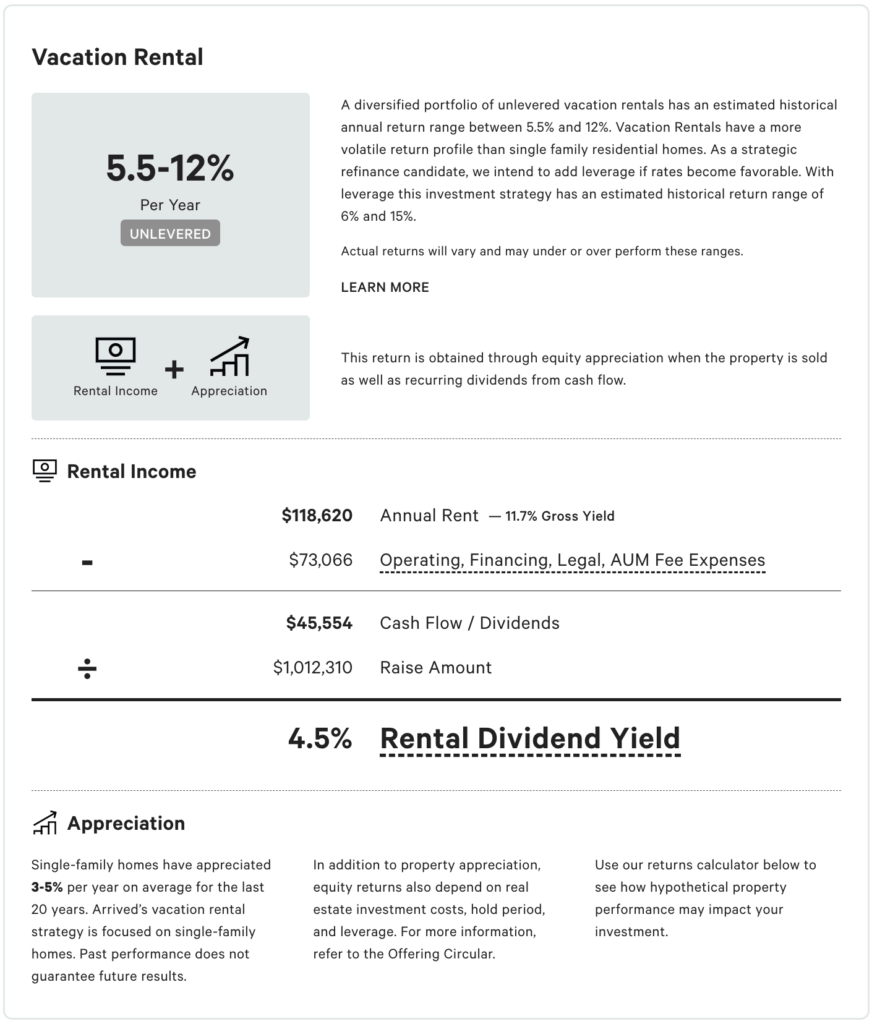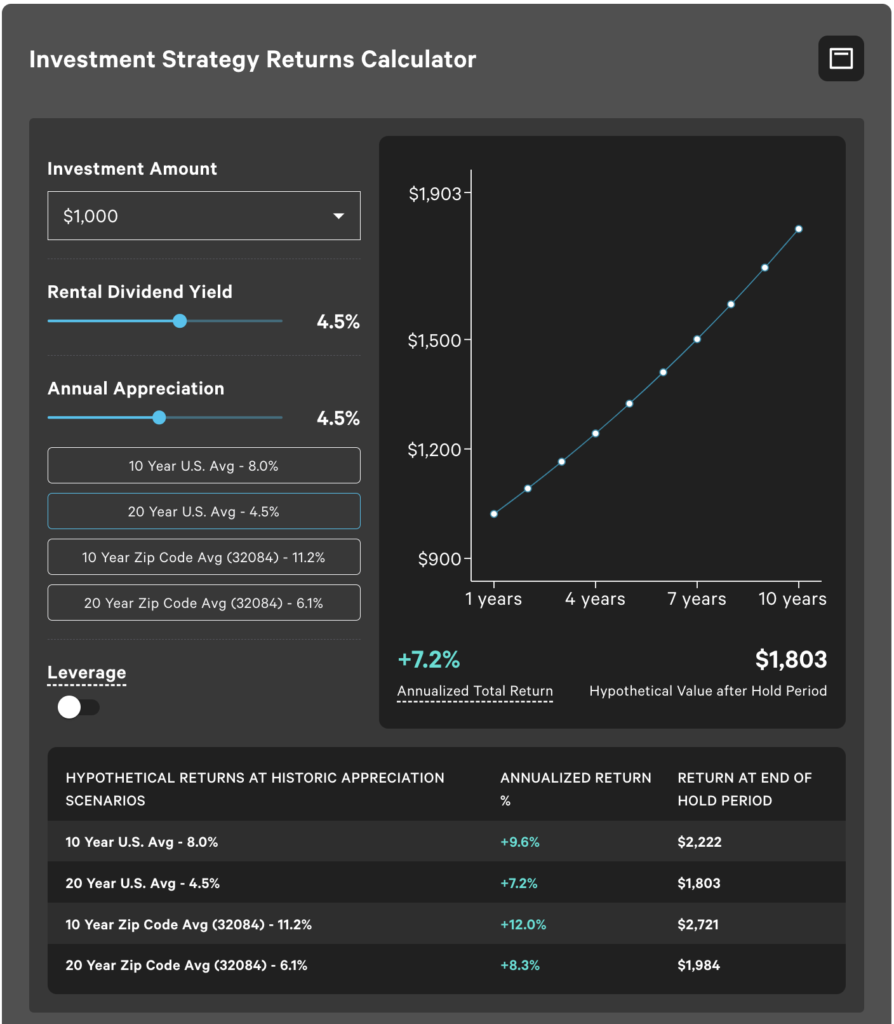 As you can see, the updates provide investors with a lot more information and the ability to explore what the returns look like under different situations. Arrived said the new calculator includes more variables such as the disposition (closing) costs for selling a property at the end of the holding period.
From what we saw of the calculator, it seems to produce numbers close to ours when given similar parameters, so it passes a "gut check" for giving reasonable results. We are, however, skeptical that the complexity from some of the fees for vacation rental properties are included in the models. Short term rentals have less certainty in their projections anyway, so we recommend taking those projections with an extra grain of salt.
Commonwealth
As others such as Kingscrowd and Crowdscale have already reported, a crowdfunded horse won the Kentucky Derby last weekend. There were 400 investors that owned a 25% stake in Mage, the winning horse, through the platform Commonwealth. This success and publicity should provide the platform a nice tailwind for their upcoming Golf offerings later this spring.
Energea
Energea had a quarterly webinar where they discussed updates about the platform and their solar portfolios. Here's a few quick highlights:
At the request of investors, they are working on building integration with personal finance apps.

They listed Mint, Empower, Betterment, Quickbooks, and Rocket Money on their slides.

The Energea IRA has had over $1M of investments added so far.
Performance updates:

Community Solar in Brazil – 5.2% dividend yield, 14.29% current net return
Solar in the USA – 5% dividend yield, 7.5% current net return
Solarize Africa – 3.5% dividend yield, 10% current net return

There were also discussions on the state of projects in the portfolio and various aspects of currency dynamics between the US dollar, the Brazilian Real, and the South African Rand.
EquityMultiple
In an effort to keep their Alpine Note products a step ahead of more traditional options like CDs, EquityMultiple has increased the yield on the Notes. The yield now ranges from 5.85% – 7.4% APY, depending on the term length.
Groundfloor
Groundfloor announced they were giving away $100 to an unspecified number of investors that create accounts between May 9 and May 31.
If you would like to create an account, you're welcome to sign up with our referral link. If you do, you can also receive $100 of bonus cash to invest on the platform after making your first $1000 of investments.
Landa
Earlier this week we wrote about Landa's long-teased expansion into new states. It turns out we were early to the party. They've added even more since we wrote that article. Based on their SEC filings, we believe they have a total of just over 225 properties available for investment now.
That's a scale of offerings more in-line with their reported funding levels. It also brings them very close to Arrived Home's 264 total offerings so far. To our knowledge, these two companies now have the most fractionalized property offerings.
Additionally, we're not sure if it's new this week, but we recently noticed the availability of real estate debt offerings in the app for the first time. The minimum investment is 12 months and the minimum investment is $10. Unlike Groundfloor or Fund That Flip, the underlying assets here appear to be US mortgages. Landa reports that earnings could be as high as 7.06% with this offering.
Lofty
Lofty has at least temporarily updated their referral program. Investors that join through a referral link no longer have to wait 90 days to receive their gift certificate (only usable on Lofty). They'll now receive $20 as soon as they sign up, but it has to be used within 7 days. Keep that in mind if you plan to join Lofty soon. Our referral link.
Vinovest
Anthony Zhang, the Co-founder of Vinovest, shared in a tweet that the platform has exceeded $100M of assets and more than 650K bottles of wine under management.
Vint
Vint announced the sale of even more assets. This follows on previous announcements made at the end of last month.
Considering the target holding periods, Vint has had partial or complete asset sales much more frequently than expected. It's unclear if this is simply because Vint is getting great purchase offers, or if partial sales will be an intentional part of their strategy to provide greater liquidity to investors.
---
To support an ad-free experience, we may earn a commission from links on this page.